I'll start by profiling myself to get things rolling.
(1) Twitter Testimony (limit your testimony to 140 characters)
Jewish, invited to play rhythm guitar in worship. Loved on, taught the saving grace of Jesus. Acts 9 sermon and a dream sealed the deal.
Be Still by Rob Reed (Right-click link for Free Download)

Audio clip: Adobe Flash Player (version 9 or above) is required to play this audio clip. Download the latest version here. You also need to have JavaScript enabled in your browser.

(or listen while reading — this song is referenced later in the post)
(2) What about this "dream?"
It was around Valentine's Day, 2006. I was in the midst of learning more about the historicity of Jesus and of the words of Jesus from the New Testament in an Alpha course at my church.
I had a lucid dream that was unlike any dream I had ever had and have ever had since. In this dream, when I became lucid, I found myself on my knees, staring into an amazing light and feeling the most amazing feeling of pure love that I have ever felt. I was there, on my knees, recognizing myself as a sinner, and giving my life to Christ.

It was then that I actually felt firm hands grip my shoulders from behind me in a loving manner, and like a lightning bolt, I felt "warm fuzzies" fill my entire being from shoulders down. I would have passed this off as a simple dream, if I did not actually feel this.
"Warm fuzzies" doesn't even describe the feeling properly because I have had those, and you take your average "warm fuzzies" (like, perhaps, what you felt when you had your first kiss), and multiply that feeling by a few thousand.
(3) So you became a Christian right then and there?
Actually, no. I was embarrassed to tell my Christian wife right away, and I waited to tell her until later that evening. I needed time to process the dream and skeptically try and explain it and the feelings that I had.
I didn't tell the Pastor of the church I was attending right away, either. It was shortly after the dream and an Acts 9 sermon in early March (after I had read Lee Strobel's Case For Christ) where I found myself in my Pastor's office, saying: "I think that I want to be baptised."
(4) What was your Pastor's reaction?
I think that I expected immediate rejoicing, but he just kind of sat there, as if he was not fully impressed. We continued discussing Jesus. I think it was because I said "I THINK that I want to be baptised" that he wasn't completely impressed.
My biggest hurdle was that my entire, immediate family of my birth are either non-practicing Jewish or agnostic/atheist, and I did not like the idea of any of them going to hell because I love them so much.
Ultimately, in this conversation, I resolved that I will always trust God to be perfectly just and to do what is right. And, I rely on the statement from God, Himself, that there will be no tears or pain in heaven.
(5) How long have you been married and do you have any children?
I have been married for 16 years to my Junior High School sweetheart, Marie, and we have a 3-year old boy, A.J., who we adopted domestically in the beginning of 2007, when he was 11 days old. His birth parents are from Guatemala, my wife is from the Philippines, and I'm a Jewish kid born and raised in the San Fernando Valley. We're a regular United Nations in our household.
(6) What's your day job?
I am an attorney by day, and I dabble with web design and podcasting. I have a number of baseball related websites, and I run the website asklawyers.com, a service designed to make it easier for the consumer looking for an attorney to find one.
I will also formally be the worship leader at LIFEhouse Church in Northridge, California in a few months.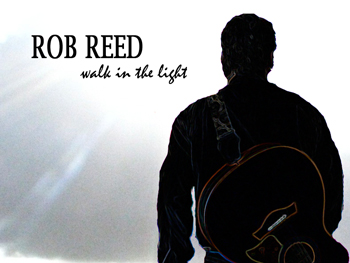 (7) Where can we find your music?
You can search for my Walk in the Light CD on Itunes and Amazon. I also have a YouTube channel ("LiftAloft") where I regularly play my worship music and covers, teaching how to play the songs on guitar for your own worship.
I will also be on Pandora streaming radio within the next few months.
(8) Can you tell us about your favorite song (or pick a song) on that album and tell us what inspired you to write it?
I think they're all my favorites because most of them were written in order to help me memorize Scripture. One of the songs that was not directly inspired by Scripture is "Be Still" (notwithstanding that the chorus comes right out of Psalm 46:10).
Some time near the end of last year, I read a Facebook status from one of my YouTube/Facebook buddies that said:
I may lack certainty in many situations in this life, but that's okay. My certainty is not in circumstances, but in Christ. If I am in God's hands, and I know that I am, then it doesn't matter where those hands might place me, I will know he guides me rightly."
I was smitten by these words immediately, and as I was sitting there at my computer, I typed them in and began work on a melody later that day. This quote became the entire first verse and most of the pre-chorus… so, to my YouTube/Facebook friends: beware what you post as I might make a song out of it.
Two songs that I also love I did not write myself. "We're the Disciples" is an amazing tune written by then-19-year-old Kevin Lienhard (who I am sure we will be profiling here soon) and I sing it along with my Sister-in-Christ Lisa Plattenberger. I wrote the lyrics for Kevin's other song "Victory," which is a powerful song that mixes between 6/8 and 4/4 timing so it is a "different" kind of worship song in that sense.
(9) Are you working on any new music?
I have 8 songs in the can, with another four that I am working on with my Brother-in-Christ and music producer extraordinaire, Lance Fooks.
I'm hoping that it will out by the end of the year.
My favorite songs, so far, on this album are "Rising Son" (based on "Zechariah's Song" contained in Luke 1) and "I Will Rejoice," which is essentially the book of Habakkuk in musical form.
(10) Who are your musical influences?
Beatles, Chris Tomlin, Paul Baloche, David Crowder, Cheap Trick, Paul Waller, Kutless, Leeland, Depeche Mode, The Cure
(11) Who are some of your favorite Christian artists?
In the context of worship leader, I love Paul Baloche. I went to a Songwriters' conference last April in Nashville, and I went to a session that he was teaching on songwriting. He is real. A great example for all of us worship leaders… and it helps that he's a great songwriter. 🙂
I just saw Audrey Assad play in Whittier, California last week with Robbie Seay. I love Robbie, but in just 4 songs that she played, she blew him away. 🙂 She is AMAZING, and if you don't have her latest album (The House You're Building), you should have it (highlights for me are Restless and Show Me).