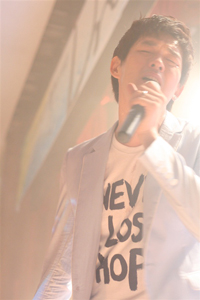 Brian is a worship leader doing mighty things for Jesus in South Korea. Please join me in praying for him and his music ministry and their efforts to spread the Gospel throughout all of Korea.
(1) Twitter Testimony (limit your testimony to 140 characters)
Born in Korea, lived in Texas most my life. Encountered God's love at 17. Ever since then, living with a vision to be a 'Father of Many Nations.' (@briankimccm)
Good News by Brian Kim (Right-click link for Free Download)

Audio clip: Adobe Flash Player (version 9 or above) is required to play this audio clip. Download the latest version here. You also need to have JavaScript enabled in your browser.

(or listen while reading — this song is referenced later in the post)
(2) Tell us a little bit about you…
I am currently a worship leader and ccm artist, based in South Korea. It's a blessing to be able to worship and share God's love to the next generation in Asia as my full time job. I also teach worship music at a university in Korea. I am married to my beautiful wife, Jenny. And we have the cutest dog in the world named Happy! He's a Maltese.
(3) Where can we find your music?

Currently, only 3 of my English worship songs are available on Itunes. You can search under the group name "KRYGEN" on itunes.
Besides that all my previous albums, both English and Korean, are only available in Korea. However, my next project will be available worldwide. To listen to some of my songs, just search for 'Brian Kim Worship' on Youtube!
http://www.youtube.com/briankimworship
(4) Do you have a favorite song that you have written… and why? Or choose one and talk about the inspiration behind it…
My favorite song is "Good News," a song about the gospel of Jesus Christ. Several years back, I injured my lower back. And because of that I sensed God's desire for me to simply rest in Him. I couldn't move my body anyways ..hehe.
So for 1 week, as I lay in my bed, I began reading a book that was about the gospel. The book challenged me and blessed me once again regarding the power of the gospel. I was reminded that we are set free from sin and shame because of the pain that Jesus bore on the cross. God reminded me of His righteousness and His work that brought me grace, as opposed to my spiritual works. So with all of that in mind, the chorus of the song 'Good News' proclaims "Hallelujah Praise to our God! Lord You are God! Almighty God." It's a song of declaration and proclamation of who He is and what He's done!
(5) What is your favorite Bible verse and why?
Philippians 2:5-11 – " Your attitude should be the same as that of Christ Jesus." More than my worship leading sessions and my singing ability, God desires an attitude of humility from me. My goal in life is to become like Christ Jesus. If my life reflects His humility and beauty, my songs will mean so much more! Always praying to be humble, so that all the glory will go to the Bright and Morning Star, Jesus!
(6) Are you working on new music now?
I'm always writing worship and ccm songs here and there.
If I'm blessed by a passage or a sermon, I jot notes down on the go. If there's a good melody that I'm humming, I try to record it right on the spot. I like to shape songs little by little. I'm working on a worship song write now based on Psalms 34. Here's a part of the lyrics that are unfinished: " I've come to bless the Lord with all my soul. His praise continually shall overflow. My soul will boast, my soul will boast in the Lord."
(8) Who are your musical influences?
Matt Redman, Delirious, Chris Tomlin, The Katinas, Craig David
(9) Who are your favorite Christian music artists?
I've always been blessed by Matt Redman. His music is always a blessing to so many people, as well as to me. But for me the key thing is his humility and lifestyle of worship. My first band from ten years back recorded a remake of his song, Once Again, in the Korean language. By God's grace, that song became a number one ccm hit for a season in Korea. I believe the reason for that influence is not only due to the gospel based lyrics and wonderful melody, but due to Matt Redman's lifestyle of worship
(10) What church, if any, do you attend? Where is it located? Are you on the worship team?
Currently, I am serving as one of the worship leaders for Onnuri English Ministry in Seoul, South Korea. It has been so awesome to see people from all nations gathered in one place to worship Jesus weekly.