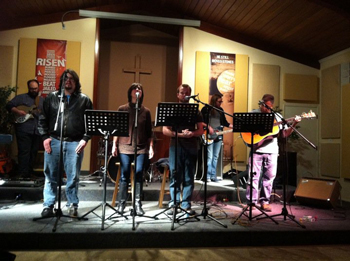 That's Doug hidden on the far right of the photo, playing guitar. And, as you'll hear in this podcast, that's just how humble, Christian songwriter Doug Martin likes it. Doug plays regular worship concerts with his family, singing original worship music, at his church (Valley Park Church, in North Hills, California).
Surrender by Doug Martin (Right-click link for Free Download)

Audio clip: Adobe Flash Player (version 9 or above) is required to play this audio clip. Download the latest version here. You also need to have JavaScript enabled in your browser.

Check out whilewerewaiting.com for the Martin's blog, as well as a ton of FREE worship music.
(1) Twitter testimony (your testimony in 140 characters or less)
Convicted at 18 turned to Christ. Was on fire, grew cold, blew past 20 years in church before recently waking up.
(2) Tell us a bit more about you…

Married 30 years and have 3 grown sons 2 of which sing with us. I have worked for Frito-Lay for the last 25 yrs.
(3) Where can we find your music?
All of our music is available for free at whilewerewaiting.com.
(4) Do you have a favorite song that you have written… and why? Or choose one and talk about the inspiration behind it…
I just wrote a song "How I Need You" … I think were all a lot weaker than we let on and even what little strength we have is from Him.
(5) What's your favorite Bible verse, if any?
Right now probably 2 Sam 24 "I will not offer burnt offerings to the LORD my God which cost me nothing"
(6) Are you working on new music now?
We are currently working on a new project produced by Chris Rude at Crude Recordings
(7) Who are your musical influences?
Neil Young, Dylan, Joni Mitchel, typical stuff I like Jon Foreman. I really don't listen to anyone in particular and like music that's live and unplugged
(8) Who are your favorite Christian music artists?
I don't really care for popular Christian music
(9) What church, if any, do you attend? Where located? Are you on the worship team?
Valley Park Church in North Hills, California – yes I play guitar