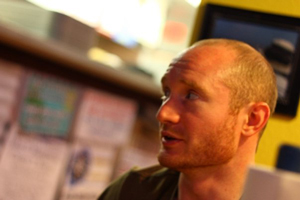 I came across Aaron by searching twitter for worship songwriters and discovered some amazing music at his website aaronloganmusic.com. He is a worship leader in Denton, TX. Let's pray for his music ministry… that he continue to bless all who hear.
(1) Twitter Testimony (limit your testimony to 140 characters)
I grew up in a Christian family. In church all my life. But I'm closer to God today than ever before. Its an awesome journey walking w Him.
(2) Tell us a little bit about you…

I'm single, no kids. Waiting on the right girl that God has for me. My day job is at a financial company called TD Ameritrade. I service independent financial advisors. Mostly handle operational things. I'm very blessed. Love my job.
(3) Where can we find your music?
iTunes and Amazon mp3. I also have a website where you can stream the songs at aaronloganmusic.com
(4) Do you have a favorite song that you have written… and why? Or choose one and talk about the inspiration behind it…
Probably my favorite off the Freedom Calls album is Your Love Is Everything. I wrote the song Christmas morning 2007, out of a deep worship time. It was just me and God and a keyboard. There had been a lot going on in my life the previous couple of years, and God was doing some heart surgery on me. I was just feeling really overwhelmed by how He walks with us through everything. But I also like Offering (Editor's Note: This song is featured in this week's podcast). I enjoyed producing that one. Did some different things musically, especially with the drums and percussion. It's a fun song.
(5) What is your favorite Bible verse and why?
That's a tough one. Probably Psalm 121 (whole chapter), or Psalm 73:26 "My flesh and my heart may fail, but God is the strength of my heart and my portion forever." I also love Ephesians and Proverbs. I love Psalms because it shows such a complete and utter dependence on God. I love Proverbs because of the practical wisdom. And I love Ephesians because it basically explains the Gospel and who we are in Christ.
(6) Are you working on new music now?
Yes. I've been writing here and there.
(7) Who are your musical influences?
Desperation Band, Chris Tomlin, Jars of Clay, Vertical Horizon, Goo Goo Dolls, Coldplay, Darrell Evans, Paul Baloche, Jared Anderson, New Life Worship
(8) What church, if any, do you attend? Where is it located? Are you on the worship team?
The Bridge Church in Denton, Tx. Yes, I'm one of the worship leaders.