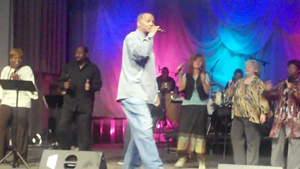 Dahn B is on the worship team at The Dream Center Church in St. Louis, Missouri. He has an amazing testimony that speaks greatly to the magnificent mercy of our God and His amazing way of restoring His people. Thank you, God, for the example of your greatness in this brother!
(1) Twitter testimony (your testimony in 140 characters or less)
5 years ago I was strung out on crack & alcohol, sleeping in my car, alienated my wife & kids, but HALLELUJAH, God! Today I am FREE! (@highezprays)
Choice by HIGHEZPRAYS (Right-click link for Free Download)

Audio clip: Adobe Flash Player (version 9 or above) is required to play this audio clip. Download the latest version here. You also need to have JavaScript enabled in your browser.
(2) Expanded testimony…
5 years ago I was strung out on crack & alcohol, sleeping in my car, alienated my wife & kids…But HALLELUJAH !!
Today I am FREE & All my children are saved and serving God…….And my wife of 32 years still loves me" !!!
When I was strung out cocaine had literally taken my voice! I cried out to God and told Him if He'd give me back my voice I'd serve Him with it forever….Be very careful with your vows to God. Today I can hit notes that I couldn't hit before I got sick !!! HALLELUJAH!
(3) Tell us a bit more about you…

I am a Husband, Father of 4, grandfather of 2, a Journeyman Electrician who happened to "fall" 18 years ago and went on a 13 year binge with alcohol, cocaine, and anything else I thought I wanted to do. I am blessed with a Proverb 31 Wife who has stuck with me for 32 years and is the mother of all my children.
(4) Where can we find your music?
"HIGHEZPRAYS"/ DAHN B / & Jae's music can be found @ these online communities;
http://www.highezprays.com

http://www.reverbnation.com/highezprays

http://cdbaby.com/cd/JAE7

http://cdbaby.com/cd/highezprays1
(5) Do you have a favorite song that you have written… and why? Or choose one and talk about the inspiration behind it…
I really don't have a favorite. I Love them all just like God loves all of us. However, there is always a story !! Behind every one of em……lol
(6) What's your favorite Bible verse, if any?
Hab 3:19 had a very real and personal touch when I was being healed by God in 2005, in the Genesis Mens' Home @ the StL Dream Center, God was moving me in the direction of ministry in music. I had all of my life been a musician in the secular world so the transition not only made sense but God knew it was my desire to serve Him in this way. The impact of that scripture in the amplified translation is the footnote; "For the Chief Musician; with my stringed instruments." (I am a Bassist)
(7) Are you working on new music now?
We just released a "hard copy" Ep Single with 4 songs "Need 2 Believe in God", "CHOICE" which is the title track to our Jan 4, 2011 Album release "CHOICES"…….And Jae is always producing or working with somebody………lol Incidentally, we are taking him to Atlanta on Dec 3 to be interviewed and auditioned for the Berklee College of Music !! HALLELUJAH !
(8) Who are your musical influences?
The obvious Stevie, Donny, Aretha, Marvin Winans, Steven Ford, but my biggest influences in all music and all Genre's would be both Ray Eldridge Sr. and Ray Eldridge Jr, My father, and brother respectively. Both Bass Players.
(9) Who are your favorite Christian music artists?
Stacey Joseph, Daniel Johnson, both of New Breed, Marvin Sapp, Micheal W. , Steven Curtis, Jon Gibson, Jason Upton, Grace Williams, Christal Lewis, Fred Hammond, The Crabb Family, Steve Brock, Ron Kenoly, Jonathan Butler, Isreal, John P Kee, Tonia Hughes, Eddie James, Karen Wheaton, Sandy Patti, Joni Lamb, Ypj & Fvc………this list could really get elongated………………lol
(10) What church, if any, do you attend? Where located? Are you on the worship team?
I am a member of The StL Dream Center Church a Division of Joyce Meyer Ministries. Our church is centered in what used to be one of the very worst neighborhoods in North St.Louis. We just recently celebrated 10 years (Oct 1) which incidentally is the day I came to the Dream Center (Oct 1, 2005) broken and hurting. The Dream Center was called "A Healing Place for a Hurting World" and it was all that for me!