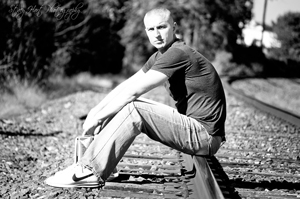 Steve serves in the U.S. Air Force, is on fire for God, and has a desire to bring strong, intense, and effective Hip Hop worship to the Christian community. Please join me in praying for him and his music ministry.
(1) Twitter Testimony (limit your testimony to 140 characters)
Was raised mostly without religion and did not become a Christian until meeting my wife
(2) Well, that certainly calls for more information… tell us more.
I haven't always been a Christian. My parents got divorced when I was seven. From the ages of seven to thirteen my mother, sister, and I moved once or twice a year throughout central California until we finally found a home in Sonora.
We tried a few churches here and there along the way, but after some fallouts we ended up not going at all. As far as I was concerned, through high school, the two years of college I completed before joining the Air Force, and for the first half of my military career God did not exist. As a matter of fact, one of my college papers was about how society in general used religion as a crutch to aid in the reality that there is no purpose to our lives.
It was not until I met my wife four years later that I realized how wrong I was. It is largely because of her persistent belief that I would come to Christ that I can stand before you a Christian today.
(3) Tell us a little bit about you…

I am married. My wife's name is Stacy. She runs a photography business. You can check out her blog at www.stacyhart.com. I have one daughter. Her name is Addisyn. She will be ten months old on November 5th and already has me wrapped around her finger.
I am a Staff Sergeant in the United States Air Force. I have been in the Air Force for seven and a half years and am currently teaching aircraft maintenance for the C-5 Galaxy.
(4) Where can we find your music?
You can find my music on Itunes, Amazon, and YouTube. I have a fan page at Facebook, as well.
(5) Do you have a favorite song that you have written… and why? Or choose one and talk about the inspiration behind it…
My favorite and most popular song is "March!". The idea behind my music is to make Christian rap songs that can compete with secular rap music in lyrical complexity. What I like about March! is how it matches the INTENSITY of secular rap. March! is a song you listen to get pumped up for a work out or just to take on a busy day at work. The song is about who we follow orders from (God), how AWESOME our God is, and how confidently we can overcome the enemy and how assured and proud we can be to say we are Christians. We should confidently proclaim our faith knowing nothing can phase us in the hands of our God.
(6) What is your favorite Bible verse and why?
My favorite Bible verse is 1 Cor. 13:11 "When I was a child, I talked like a child, I thought like a child, I reasoned like a child. When I became a man, I put childish ways behind me."
There are so many reasons why I love this Bible verse, but mainly because it speaks to me as a father. It is about stepping up and taking on your role as the Christian leader of your family. When I see full grown men complaining about their responsibilities, partying every weekend, lying to their spouses and then wonder why they aren't respected, I think of this verse…They're still acting like children.
(7) Are you working on new music now?
I am always writing. I have about five song ideas for my next album (one of which is called "Bring on Goliath" which I am REALLY excited about) and have written the first verse and a hook for a few of them. However, because I will be getting out of the military in three months, I cannot endure the cost of studio time until I have made this transition.
(8) Who are your musical influences?
My musical influences are probably not what you would expect. I like the sound of each of my songs to be unique and to incorporate a specific atmosphere. I like to use "real" instruments in my songs, which is not typical of mainstream rap. Lyrically, I would still have to say my influence is Eminem.
I used to listen to him daily when I first started rapping (before I became a Christian) and he is still the lyrical standard that I try to hold myself to. Let's face it, to be competitive with secular music, I have to know what is out there. Other than that, my musical influences are bands like Matchbox 20, Needtobreathe, Joe Purdy, Flobots, Something Corporate, Chris Tomlin, and many more…I try to get into a little bit of everything.
My absolute favorite Christian band is Needtobreathe. They are one of those bands where I can listen to their music all day for weeks at a time. They're the best. I also really enjoy Chris Tomlin and Sanctus Real.
(9) What church, if any, do you attend? Where is it located? Are you on the worship team?
I attend Center Point Church. We are a small church trying to grow into a transforming presence in the city of Dover. We are located in Dover, Delaware in the Duncan center (5th floor) at 500 W Loockerman St. We have one service at 1030 a.m. every Sunday.
I do the sound engineering and techie duties for our worship team and am also in our leadership training course.
I would love to hear from you! Please email me at HartStrong18 [at] gmail [dot] com.